2024 Wholesale Plus Size Fashion Trends: Style and Comfort Combined
01 Eylül 2023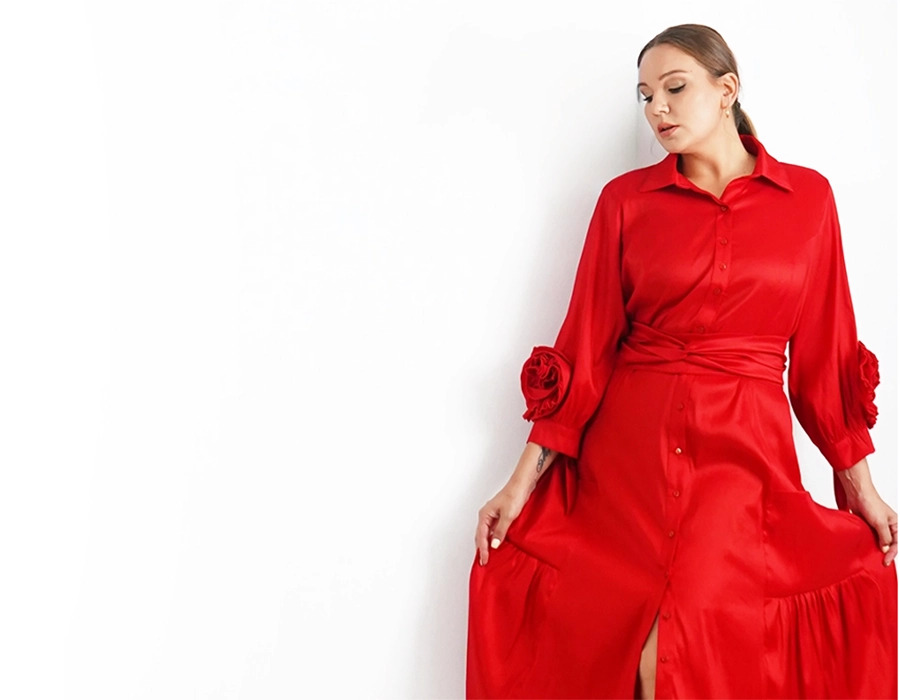 As we step into 2024, the world of plus-size fashion is poised to embrace an exciting array of trends that seamlessly blend style and comfort. This year promises a fashion landscape where inclusivity and self-expression take center stage, offering a diverse range of options for everyone. In this article, we'll delve into the wholesale plus-size fashion trends that are set to make waves in 2024.
Inclusivity in sizing is a non-negotiable trend in 2024. Brands are extending their size ranges to cater to a broader audience. This shift towards inclusivity means that wholesale plus-size fashion is no longer limited to a few sizes but is now available in a wide spectrum, ensuring that everyone can find the perfect fit.
2024 welcomes a riot of prints and patterns in plus-size fashion. From bold florals to geometric designs, fashionistas of all sizes can expersonality to your wardrobe, allowing you to express your unique taste.
One of the most significant trends of 2024 is the celebration of body positivity and self-confidence. Plus-size fashion is empowering individuals to embrace their bodies and express themselves without reservation. This trend is reflected in bold, body-hugging silhouettes and statement pieces that encourage self-assured style.
The Significance and Growth Trends of Plus Size Fashion
The fashion industry is undergoing a remarkable transformation, driven by an increasing recognition of the significance of plus-size fashion. Gone are the days when limited options were available for those who didn't conform to traditional sizing standards. Today, the growth and evolution of plus-size fashion are undeniable, reshaping the industry's landscape.
The Rise of Inclusivity
In recent years, inclusivity has become a driving force in the fashion world, leading to a fundamental shift in the perception of beauty and style. Plus-size fashion is at the forefront of this movement, as it celebrates and caters to individuals of all body shapes and sizes. The significance of inclusivity cannot be overstated, as it allows everyone to feel seen, represented, and empowered through fashion.
Changing Market Dynamics
The growth of the plus-size fashion market is a testament to its significance. Brands and retailers are increasingly recognizing the immense potential and demand in this sector. As a result, they are expanding their offerings to include a broader range of sizes and styles. The market dynamics are shifting, with plus-size fashion becoming a driving force in revenue and innovation.
Body Positivity and Self-Expression
Plus-size fashion goes beyond clothing; it's a movement that promotes body positivity and self-expression. It encourages individuals to embrace their bodies and express their unique personalities through style. This shift is evident in the rise of fashion influencers and models who challenge traditional beauty norms and inspire confidence among those who have long been underrepresented.
Innovative Designs and Trends
The growth of plus-size fashion has led to innovative designs and trends that cater specifically to the unique needs and preferences of plus-size individuals. From adaptive clothing to body-positive swimwear, the industry is continually evolving to offer stylish and comfortable options. This dedication to creating fashion-forward pieces further underlines the significance of plus-size fashion.
Empowering Individuals
Above all, plus-size fashion empowers individuals to take ownership of their style and feel confident in their skin. It is more than just clothing; it is a movement that promotes self-assuredness and challenges societal norms. This empowerment is evident in the growing confidence of plus-size individuals who are redefining fashion on their terms.
In conclusion, the significance and growth trends of plus-size fashion are not merely confined to the clothing industry; they represent a cultural shift towards inclusivity, self-expression, and empowerment. Plus-size fashion has emerged as a force to be reckoned with, shaping the future of fashion by celebrating diversity and embracing the beauty of all body types.
2024 Wholesale Plus Size Collections: Elevating Fashion Diversity
In the ever-evolving world of fashion, the year 2024 promises to be a remarkable chapter for wholesale plus-size collections. This year's collections are set to redefine the industry's standards, emphasizing inclusivity, style, and comfort like never before. In this article, we'll explore the exciting trends and innovations within the 2024 wholesale plus-size fashion landscape.
2024 heralds an era where diversity is at the forefront of plus-size fashion. Wholesale collections are embracing a wide range of style aesthetics to cater to the unique tastes of plus-size individuals. From boho chic to minimalist elegance, there's a collection for every fashion sensibility.
Sustainability remains a key focus in the wholesale plus-size fashion world. Brands are increasingly sourcing materials responsibly, employing eco-friendly production methods, and championing ethical practices. Expect to find collections that blend sustainable fashion with stylish designs, allowing buyers to make eco-conscious choices.
Versatility takes center stage in 2024's wholesale plus-size collections. Wardrobe staples are reimagined with a focus on adaptability and mix-and-match options. Buyers can expect versatile pieces that seamlessly transition from day to night, offering maximum value and convenience.
The importance of inclusive sizing cannot be overstated. Wholesale collections now span a broad range of sizes, ensuring that no one is left out of the fashion equation. This commitment to inclusivity is a powerful statement of the industry's dedication to celebrating diverse body types.
Advancements in technology are revolutionizing how plus-size clothing fits. Brands are leveraging innovative sizing tools, 3D scanning, and augmented reality to provide a more accurate fit for customers. Buyers can expect a more personalized shopping experience that results in better-fitting clothing.
2024 is all about self-expression through fashion. Wholesale collections are introducing bold and vibrant colors, along with eye-catching prints and patterns. These collections encourage wearers to make a statement and express their unique personalities.
In conclusion, 2024's wholesale plus-size collections are a testament to the industry's commitment to inclusivity, sustainability, and innovation. Fashion diversity takes center stage as collections embrace a variety of aesthetics, sizes, and eco-conscious practices. As buyers explore these collections, they are sure to find options that resonate with their personal style, values, and the ever-evolving demands of modern fashion.
2024 Wholesale Plus Size Fashion Buying Tips: Your Guide to Smart Shopping
When it comes to shopping for wholesale plus-size fashion in 2024, being well-informed is your greatest asset. The fashion landscape is evolving rapidly, and this year brings exciting opportunities for buyers looking to stock their inventory with trendy and inclusive options. In this article, we'll provide you with valuable tips to ensure your wholesale plus-size fashion buying experience is both successful and satisfying.
Before making any purchasing decisions, it's crucial to understand your target audience. Take the time to analyze the preferences, lifestyles, and fashion sensibilities of the plus-size individuals you aim to serve. This insight will help you curate collections that resonate with your customers.
Stay up-to-date with the latest plus-size fashion trends. Research fashion magazines, attend industry events, and follow influential fashion bloggers and designers on social media. This knowledge will enable you to make informed choices when selecting pieces for your inventory.
Fit is paramount in plus-size fashion. Prioritize pieces that offer comfortable and flattering fits. Look for brands that employ innovative sizing technology to ensure your customers find clothing that suits their unique body shapes.
Sustainability is a growing concern in the fashion industry. Consider partnering with wholesale brands that emphasize eco-friendly practices, such as using sustainable materials and ethical production methods. Offering sustainable fashion options can appeal to conscious consumers.
To cater to a diverse clientele, ensure your collection includes a wide range of styles, from casual wear to formal attire. Diversifying your inventory allows you to serve a broader customer base with varying fashion needs.
Consider collaborating with fashion influencers who have a strong presence in the plus-size fashion community. Influencer partnerships can help you reach a wider audience and generate interest in your wholesale plus-size fashion offerings.
Participate in industry-specific trade shows and fashion expos to connect with potential suppliers and discover emerging brands. These events provide valuable networking opportunities and insights into the latest fashion trends.
Pay close attention to customer feedback and reviews. Understand what your customers appreciate about your offerings and where improvements may be needed. This feedback loop is invaluable in refining your inventory selection.
Whether you sell in-store or online, ensure that the shopping experience is user-friendly and convenient. Invest in a responsive website, clear product descriptions, and hassle-free return policies to build trust with your customers.
The fashion industry is dynamic, and trends can change rapidly. Stay adaptable and be willing to adjust your inventory to meet evolving customer preferences. This flexibility will keep your offerings relevant and appealing.
In conclusion, 2024 presents a wealth of opportunities in the wholesale plus-size fashion sector. By following these buying tips, you can navigate this dynamic landscape with confidence, offering your customers stylish and inclusive options that reflect the ever-changing world of fashion.
The Resurgence of Vibrant Colors
In the world of plus-size fashion, the resurgence of vibrant colors is making a bold statement in 2024. Fashion enthusiasts are no longer confined to neutral hues; instead, they are embracing a spectrum of lively and vivid colors that exude confidence and individuality. From electric blues to radiant reds, plus-size clothing collections are celebrating the power of vibrant colors.
Fashion designers are incorporating these bold shades into a wide range of clothing options, including dresses, tops, and outerwear. Vibrant colors not only add a sense of energy to your wardrobe but also uplift your mood and make a striking fashion statement.
Whether you're looking to stand out at a special event or simply want to infuse more color into your daily attire, 2024 is the perfect time to explore the resurgence of vibrant colors in plus-size fashion. Embrace the hues that resonate with your personality and style, and you'll undoubtedly make a fashionable impact wherever you go.
Patterns Triumph: From Stripes to Florals
2024 is a year of pattern triumph in plus-size fashion. From classic stripes to vibrant florals, patterns are taking center stage and allowing individuals to express their unique style with confidence. These eye-catching designs are versatile and can be incorporated into various wardrobe pieces, offering endless possibilities.
Stripes, known for their timeless appeal, are making a strong comeback in plus-size fashion. Whether in classic black and white or bold, colorful combinations, striped clothing adds a touch of sophistication to any outfit.
Florals, on the other hand, are embracing both subtlety and boldness. Delicate floral prints adorn dresses, blouses, and even activewear, offering a wide range of options for every occasion.
The resurgence of patterns in plus-size fashion is a testament to the industry's commitment to inclusivity and self-expression. Regardless of your style preferences, there's a pattern for everyone in 2024.
Quality Fabrics and Comfort
Quality fabrics and comfort take precedence in plus-size fashion in 2024. The days of compromising comfort for style are long gone, as designers and brands are dedicated to providing both.
Investing in high-quality fabrics ensures that your clothing not only looks good but also feels great against your skin. Look for materials that offer breathability, durability, and ease of movement. Fabrics like cotton blends, modal, and stretch denim are popular choices in plus-size clothing.
Comfort is at the heart of every well-designed plus-size garment. From well-constructed seams to adjustable waistbands, clothing is tailored to provide maximum comfort throughout the day. Whether you're dressing for a busy day at the office or a relaxing weekend outing, you can expect comfort to be a non-negotiable feature of your clothing.
In 2024, fashion enthusiasts are encouraged to prioritize both style and comfort. Quality fabrics and thoughtful designs ensure that plus-size individuals can confidently embrace the latest fashion trends without sacrificing comfort.
As Turkey's leading wholesale plus size sales company, contact us now and start the 2024 season with strong and high quality products. You can contact us about all your questions by visiting our products on our website.
We will continue to be the leading brand of Turkey and to serve with our quality service and wholesale products we offer all over the world.